About the World Cup Trophy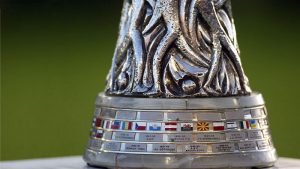 The World Cup is the most prestigious trophy in the world. It is every player's dream to one day lift the World Cup. Have you ever wondered what makes the World Cup so prestigious or who designed the trophy itself? Worry no more for you are about to get information about all the things you might not know about the cup in question.
Designers
Silvio Gazzaniga designed the world cup trophy in 1971. This is after Brazil had gained the right to have the original world cup trophy permanently. The trophy is made using 18-carat gold. There are also bands of malachite placed on the base of the trophy. It has a height of 36.8 centimetres. The trophy weighs about six kilograms. The trophy was designed to look like two people holding up something that looks like the world.
Value
Ever wondered why players value this trophy? Maybe it is because of its worth or the glory received upon winning the cup. The World Cup Trophy is currently worth about 20 million dollars. This is great value for a trophy that players seem to be tossing around during celebrations.
Does, the Winning Team, Carry the Original Trophy?
This is one of the things which not so many know about. We see the winning team celebrating their victory after they have been awarded the trophy. But, do they really carry the trophy with them home? The answer is no. FIFA has made a replica which is awarded to the winning team after their celebrations.
How Many World Cup Trophies Have There Been?
There have been two World Cup Trophies in football history. The first trophy was made in 1930. It was awarded permanently to Brazil after they had won the competition three times. This is what led to the making of another World Cup Trophy.