Stars Who Shone At The 2018 World Cup
Formally known as the FIFA World Cup, the World Cup is the largest sporting event globally. This competition has been running since the 1930s and has seen several countries take home the prestigious cup. In 2018, the spectacular event went down in Russia, where France emerged winners.
The tournament was yet another chance for the world to witness immense talent. He are some stars who had a really good time in Russia:
Luka Modric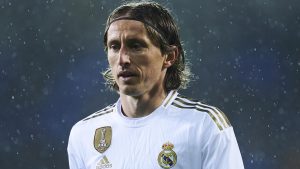 The Real Madrid man has been around for some time now, but in Russia 2018 is where the world experienced him at his best. Some people had in the past even questioned whether he was a worthy buy for Real, but no one questions that anymore. He was instrumental in taking Croatia to the final, something he must be really proud of.
Kylian Mbappe
As an emerging star, the 2018 World Cup was Mbappe's biggest chance to announce himself to the world. And he did that in style, playing in the attack that eventually took the cup home. Mbappe was ruthlessly effective in front of goal for Didier Deschamps' side, scoring four times in the tournament.
Benjamin Pavard
While Mbappe was shining upfront, Pavard was making a name for himself as a right-back too. Then 22, the lad was as good at the back as he was going forwards. A fabulous strike against Argentina was a deserved reward for the work he did for Les Bleus.
Lucas Torreira
The diminutive Uruguayan had a great World Cup outing too. Initially a substitute, he kept his place once he stepped in and was key in midfield. He was especially valued for his hard work that helped Uruguay overcome a talented Portugal side in the round of 16. For his efforts, Torreira earned himself a transfer from Sampdoria to Arsenal.